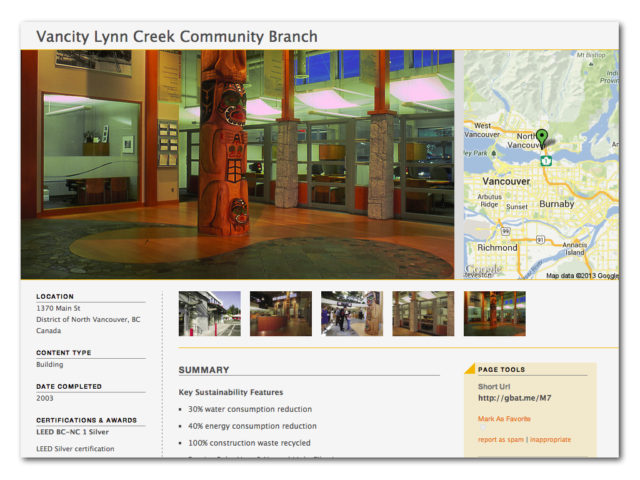 The Green Building Brain project arose through the consolidation of the World Green Building Map (initiated by the Vancouver Design Nerds Society aiming to create an online database of green building case studies) and the World Green Building Library (a project initiated by Recollective Consulting aiming to create an online public archive of user-generated content related to green building practices). Recognizing the similar goals of their respective projects the VDNS and Recollective have combined their resources to create a more comprehensive application that offers a unified venue for locational building data as well as library content.
The Green Building Brain is now in its initial development as an open-source web application.  A new enterprising non-profit organization was created to own and manage "the Brain" called the Open Green Building Society.  Its mission is to create open-source green building tools and resources.
Seed funding was provided by Recollective, with additional grants from Vancity, City of Vancouver, and Canada Mortgage and Housing Corporation, with countless hours of in-kind labour from Recollective, Workbench, Alex Grunenfelder Graphic Design, and many other volunteers.
Since its initial launch at the Canada Green Building Council 2009 Annual Summit in Montreal, the Green Building Brain has over 1,000 entries and growing.  Still in early beta, the project is seeking funding to develop more advanced features.